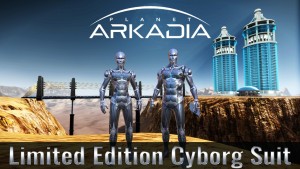 Arkadia Moon Deeds – Limited Edition Cyborg Suit
A new series of Arkadia Moon Deed packs are now available. The brand-new 50-pack features a Limited Edition Cyborg Suit of unprecedented style that will make any avatar stand out in the crowd.
The new Moon Deed packs also feature Hacking Devices that can be used on Arkadia Moon to circumvent security terminals installed by PTECH industries.
The Moon Deed packs, available for a limited time only, are sold as;
Arkadia Moon 5 Deed pack – 3 Hacking Devices

Arkadia Moon 10 Deed pack – 6 Hacking Devices

Arkadia Moon 20 Deed pack – 15 Hacking Devices

Arkadia Moon 50 Deed pack – 1 Cyborg Suit + 25 Hacking Devices
All the new Moon Deed packs including the 50-pack Limited Edition is available in the Entropia Universe Webshop right now!
Hacking Device


Hacking devices have been created by the underground movement called The Smugglers to break through the security that was put into place by the PTECH industries.

These devices deactivate all surrounding turrets and lower the security of whatever network it is inserted into.
These devices are currently used to override PTECH security installations on the Arkadia Moon.