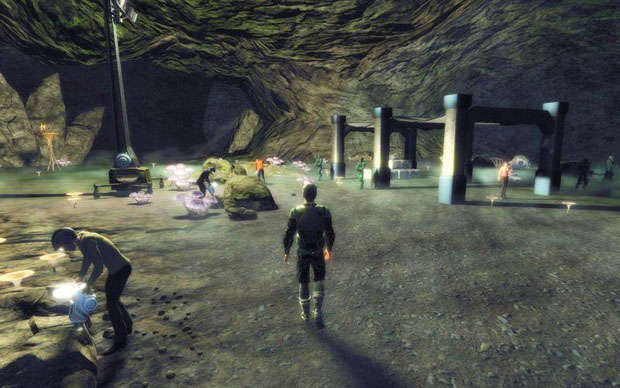 Arkadia Underground
Ever wanted to share in the growth of Arkadia?
Now is your chance!
Participants of Entropia Universe are being given an opportunity to acquire Arkadia Underground Deeds at a fixed listing value of 50 PED per deed.
A total of 200,000 deeds are being made available which equals 100% of the Land Area. The area will be managed by Arkadia Studios and a new subforum for Arkadia Underground discussions will be created at Planet Arkadia Forum.
Starting today, batches of deeds will be released via the Arkadian Auction.
Included with the patch due next week, a broker will be located at the Arkadian Underground teleporter that will sell individual deeds allowing participants to purchase the exact number they want.
Tax revenue from the Land Area 'Arkadia Underground' will be distributed automatically to deed holders on a weekly basis via the PED flow centre. The Arkadia Underground will have a fixed tax percentage of 5%.
Arkadia Underground offers something for everyone, new unique mobs (Navi, Wombana and Togolossi), 64 sq km's of caverns to explore, hunt and mine. Mining in Arkadia Underground utilizes the Indoor mining logic as previously experienced by participants on Calypso's FOMA and Rocktropia's HELL areas. Vehicles are also usable throughout the Underground area.
Entrances to mysterious Ancient Arkadian Vaults are also located throughout this new area.
*********************************
The following are changes that come with Planet Arkadia Update 2014.1. This information is provided to the extent that the IFN and ACA are at liberty to discuss at this time. Log in today and check things out for yourself, to discover how the changes affect you!
NEW CONTENT
Arkadia Underground
Arkadia Underground is here! Access is via the TP network on Arkadia, select "Arkadia Underground" from the drop down list at any Arkadia surface teleporter.
Arkadia Underground Deeds will be available from the Arkadian auction and from a broker next to the main Arkadia Underground teleporter (after the patch next week).
Oratan Red alert event system improvements
Improvements have been made to the Oratan attack event system – details of the next event will be announced within the next week
New custom shop front up in Celeste Harbour North
Hidden Fortunes and Treasures
*********************************
Additional Information
Bug Fixes and improvements
Various bug fixes and improvements have been made.
A rare issue that can cause a player to get stuck in the Aakas instances have been fixed.
The droopy eye issue on Arkadia armours has been fixed.
Various missing resources that are needed, have been added, example: Copper, Quantium
General notes
Missions for the creatures found within Arkadia underground will be available following the patch next week.
The Treasure maps previously distributed to participants will be enabled in the patch next week
Known Issues
Liakon Koroma female currently has a small gap on the neck from fixing the eye issue.