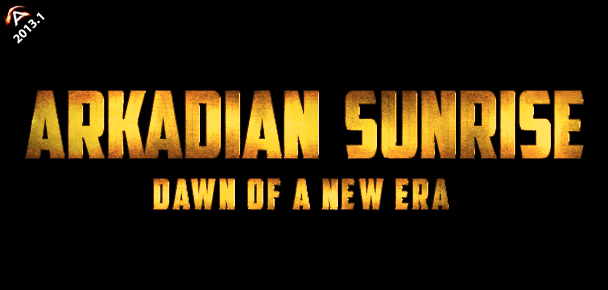 In the most important version update since the launch of the game, Planet Arkadia today implements a number of long-awaited systems which will have a significant impact on the Arkadian experience. For this reason, today, 13/03/13, marks the beginning of a new chapter in the history of Planet Arkadia.

Accordingly, Arkadia Studios will now begin execution of the largest-scale marketing plan Entropia Universe has ever seen.

A new era has dawned. Arkadia is ready. Are you?

A brief snapshot of the in-game highlights of Arkadian Sunrise:

Mining Amps!
Arkoin Brokers!
Desert Island Land Area for sale!
DNA!
Golden Instance Live!
Global Ad system!
Event areas incl PvP!
New Herman Weapons!

…and much more!!!

NEW CONTENT

Mining Amps – three new "Athena" Terra Amps are now available as follows:

Terra Amp I 'Athena' (L)

Max TT Value: 64 PED
Minimum skill requirement: 4
Decay: 0.40000 PED per use
Mining Skill Increase: 4%

Terra Amp IV 'Athena' (L)

Max TT Value: 134 PED
Minimum skill requirement: 10
Decay: 1.20000 PED per use
Mining Skill Increase: 4%

Terra Amp VI 'Athena' (L)

Max TT Value: 188 PED
Minimum skill requirement: 14
Decay: 2.60000 PED per use
Mining Skill Increase: 8%

Arkoin Brokers – the wait is over. Today a single Arkoin Broker has been placed near the brand new IFN Supply Depot Teleporter, to replace the brokers previously located in various buildings throughout the Supply Depot. The new single broker functions in a similar manner to a Trade Terminal, so that all Arkoin items can be purchased from one location. Happy shopping!
Golden Door – it is now possible to enter the Arkadian Golden Door, provided the brave colonist is in possession of an Arkadian Golden Key. Treasure Hunting with weapons!
Land For Sale – desert islands introduced! Through some recent land reclamation, the Arkadian Colonial Administration has made available two beautiful new private estates off the south-west coast of Sentosa. The first of these is currently for sale from the Arkoin Broker for 15,000,000 (Fifteen Million) Arkoins. Please see this announcement for more details.
DNA – it is now possible to acquire DNA parts for many Arkadian creatures. These DNA parts can be refined into DNA samples, which can in turn be used by a Land Area owner to spawn the relevant creature on the Land Area. This DNA includes some creatures that can currently only be found in instances.
Global Ads – the global advertising system has been implemented across Sentosa. Every ad screen doubles as a terminal for colonist convenience. Now budding entrepreneurs can more easily promote their businesses.
Event Areas – five new event areas have been added across Sentosa, including a PvP (player vs player) area, ready for colonists to explore and discover.
Herman Range Completion – The entire Herman Industries weapon range has received an upgrade including 20 new weapons and some renamed existing weapons, as previously announced here, where you can find more information.
TEN Edition – it is now possible to loot TEN Edition items, in celebration of the tenth anniversary of Entropia Universe.
Visual Enhancements – a number of upgrades have been made to the environment to improve playability as follows:

Firebases now have identifying signage above each main entrance.
Signs have been added to convenient roadside locations directing colonists to nearby Firebases and Digsites.
The No Vehicle Zone at Celeste Quarry has been approved after the trial period previously discussed here, and No Vehicles Allowed signage has been added near the boundaries of the area.
A map marker has been added for the area where new colonists arrive on Arkadia.
Map markers have been added for all Oratan wave spawn areas.
Various terrain and vegetation enhancements have been made across the continent
Firebase defences have been upgraded
Optimisation improvements have been made, which are expected to reduce lag at Celeste Harbour and Celeste Quarry.

KNOWN ISSUES

Many of the clothing bugs that followed the recent avatar update have been ironed out. However, some still remain, and some will be smoothed out in the upcoming patch.
Inventory icons for ACA-AS Civilian Uniform Cap range and IFN Combat Uniform Cap range still don't work.